Sedona Indian Ruins
When you're making your travel plans this year, put Sedona, Arizona at the top of the list. Among other amazing attractions, the small city is near some of the best-preserved prehistoric Indian ruins in North America. The Sinagua Indians lived in the region for nearly 800 years and left behind breathtaking cave dwellings, rock art, ruins, and more. From the Palatki & Honanki Red Cliff sites to Tuzigoot & Montezuma Castle, you won't want to miss the ruins near Sedona, AZ. Read on to learn more about the mysterious Sinagua people and the ancient dwelling and art they left behind.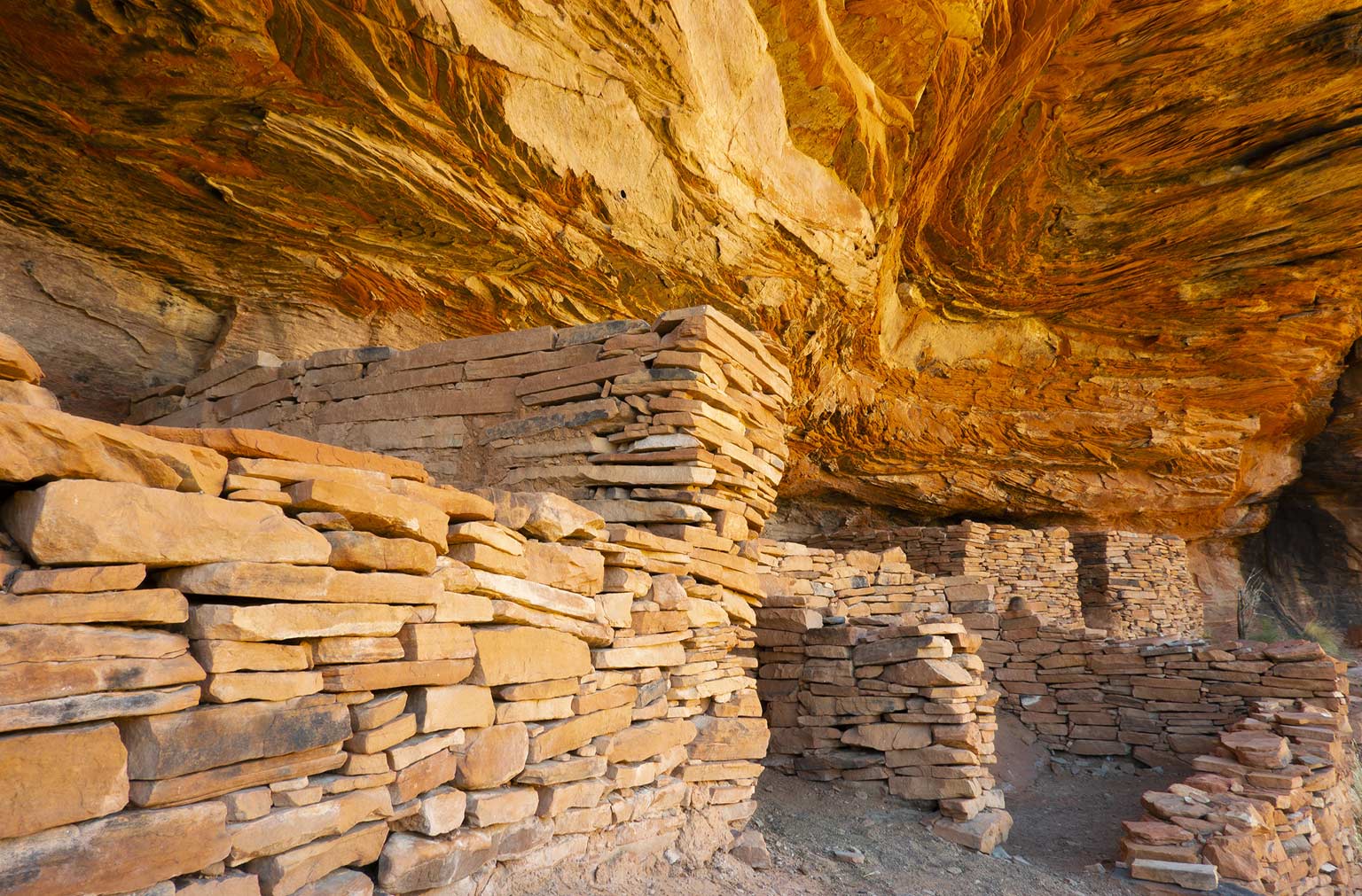 Who Were the Sinagua Indians?
The Sinagua Indians lived in what is now Arizona beginning around 650 A.D. They traded with the Anasazi to the north and the Hohokam to the south, and the Sinagua adopted Hohokam irrigation systems around 800 AD. Handball courts from 900 AD also suggest the Sinagua may have traded with cultures as far south as the Aztec or Maya.
The Sinagua built breathtaking adobe structures that could house hundreds of people. They grew corn, beans, and squash and created beautiful works of pottery and woven cotton. They kept dogs and parrots as pets, and by 1425 AD, the Sinagua were a thriving society at the peak of their power.
Where Did They Go?
Around 1425, the Sinagua suddenly abandoned the Verde Valley, where they had been living for nearly 800 years. To this day, historians aren't sure why the Sinagua decided to leave their land. Some historians suspect there may have been a long drought, while others say religious leaders foresaw the arrival of white men and left before the onslaught of colonialism.
When the Sinagua left the area, they may have migrated north to join the Hopi tribes. Other accounts say some people stayed in the area and intermarried with the newly-arrived Yavapai. Wherever they went and for whatever reason, they left, by the time Spanish expeditions arrived in 1583, the Sinagua Indians were long gone.
Sedona Indian Ruins and Ancient Pictographs
Palatki Heritage Site
Although the Sinagua left nearly 600 years ago, we can still see some of their work near Sedona, AZ, today. The Palatki / Red Cliffs Heritage Site is an especially rich area, filled with ancient ruins and art. One of the most breathtaking structures in the area is the Palatki cliff dwelling.
The cliff dwellings were built somewhere around 1150 and remained in use until the Sinagua left the area. These buildings are two stories high and contain shards of pottery that inhabitants once used. There is also rock art near the cliff dwellings that shows pictographs of grizzly bears, coyote, deer, horses, snakes, and humans.
Honanki Heritage Site
Honanki is another ancient Sinagua dwelling that sits in the western canyons outside Sedona. It was one of the largest prehistoric pueblos in the Verde Valley, and the name means "Bear House." The pueblos are tucked deep in the canyons, and there the Sinagua crafted tools, tended farms, hunted, and gathered wild plants for food.
When you visit Honanki, be sure to keep an eye out for the area's famous pictographs. Some of the artwork dates back as far as 2,000 BC, though much of it was created when the Sinagua lived in the canyon. After they left, the Yavapai and Apache left artwork on the walls while they lived there until 1875.
Tuzigoot National Monument
Tuzigoot was the largest Sinagua dwelling in the Verde Valley. The ruins boast an astounding 110 rooms, and some buildings reached as high as three stories. The Sinagua built the complex on a ridge east of what is now Clarkdale, AZ, about 120 feet above the Verde Valley floodplain.
When you visit Tuzigoot, you'll find very few traditional doors. The Sinagua instead preferred to use a trapdoor-style opening in the roof of a building, with ladders descending into each room. There are well-preserved petroglyphs throughout the complex, though the areas with this artwork are only open to the public on certain days of the week.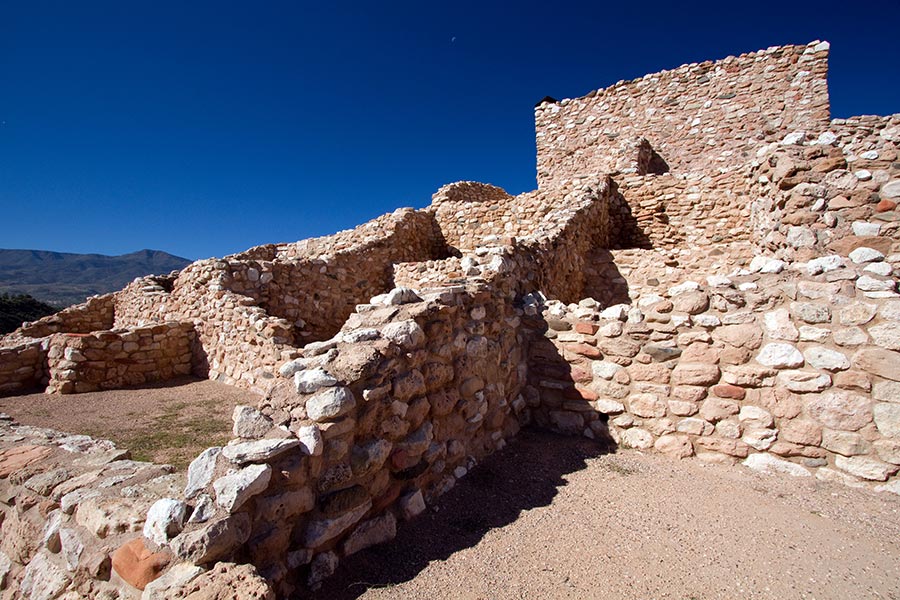 Montezuma Castle National Monument
Montezuma Castle is another of the famous cliff dwellings the Sinagua people created. This ruin is about 800 years old and contains twenty separate rooms. Historians consider Montezuma Castle to be one of the best-preserved prehistoric cliff dwellings left on the continent.
There was once a larger structure next to Montezuma Castle that contained as many as 50 rooms, but it burned down centuries ago. When archaeologists excavated the ruins there, they discovered a wealth of artifacts that gave us insight into the Sinagua Indians who had lived there. Montezuma Castle was one of the first four sites President Theodore Roosevelt selected as a national monument when he created the Antiquities Act in 1906.
Manners at the Site
When you visit the Sinagua ruins, there are a few very important manners you must mind. First and foremost, do not touch or take anything from the ruins. These ruins are hundreds of years old, and they are a rich source of cultural heritage and history; if everyone who visited took even a small piece of stone, our children would have nothing left to visit and learn about the rich culture that once thrived there.
It's also important that you don't leave any trash behind in the park. Make sure you stay on marked trails to avoid either getting lost or causing inadvertent damage to ancient historical sites. And make sure you make reservations for any tours you want to take; the area is very popular, and you don't want to miss out on seeing some of these amazing sites.
Other Dont's
Don't move things like rocks and plants around
Don't explore off-trail
Don't "clean" rocks or cliff walls
Don't trace or make "rubbings" of rock art
Don't highlight anything or make marks of any kind at the site
Don't smoke near the area
Discover the Wonders of Sedona Indian Ruins
The Sinagua people were a thriving culture in the Verde Valley for almost 800 years, and to this day, their departure intrigues historians. You can visit the amazing structures they built outside of modern-day Sedona, AZ, and see what remains of these incredible people. Just be sure you take nothing but memories, leave nothing but footprints, and make reservations ahead of time.
Keep in mind…
These heritage sites and national monuments have entrance fees and may not be open year-round. You also may need to make a reservation to visit. Please plan accordingly.
GET STARTED
Do you think this article should link to your website?
We do too! Become a Business Directory Member Today!
GET STARTED
Promoting Your Business
How do we promote your business? Well, this online magazine is one example. You can choose 4 different ways to utilize this space:
Business Directory Listings
Directory Listings last 1 month, 6 months, or 1 year. They feature your contact information, logo or profile pic, photos, YouTube videos, business descriptions, map, and a link to your website. See a Business Directory Listing Template here ⇒
Read the Sedona Business Directory Resources & Guidelines here ⇒
Ads
Ads are billed monthly, every 6 months, or yearly and have several locations on this website to choose from. See Ad Specs here ⇒
Articles
Articles (blog posts) are a really fun and inexpensive way to get published on the web (and get links!). See our Article Guidelines here ⇒
Homepage Cover News Story
This large, high-visibility section at the top of the homepage is available only 52 times per year and is published for a full week. It is offered on a first-come/first-serve basis. One business can reserve this premium space only twice per month. Read Guidelines here ⇒
Social & Email
Sedona Biz Mag also maintains FaceBook and Instagram pages, as well as an eNewsletter to further share your content across multiple platforms and through email.
View Advertising Services
Subscribe
&

Get Some Good News!
Special Offers, Opportunities & Information
for Locals and Visitors Alike 😊
We do not spam. You can unsubscribe anytime.