What could be more perfect than Sedona weather? Travelers to Sedona enjoy a mild, year-round climate, blue skies, and an average annual precipitation of only 19″. Summer monsoons are dramatic, cooling and come with rainbows. Winters delight with rare dustings of snow on the red rocks that usually melt by mid-afternoon. Spring and fall are long, lovely seasons. There really is no bad time to visit Sedona. Scroll down to learn more about weather for Sedona Arizona.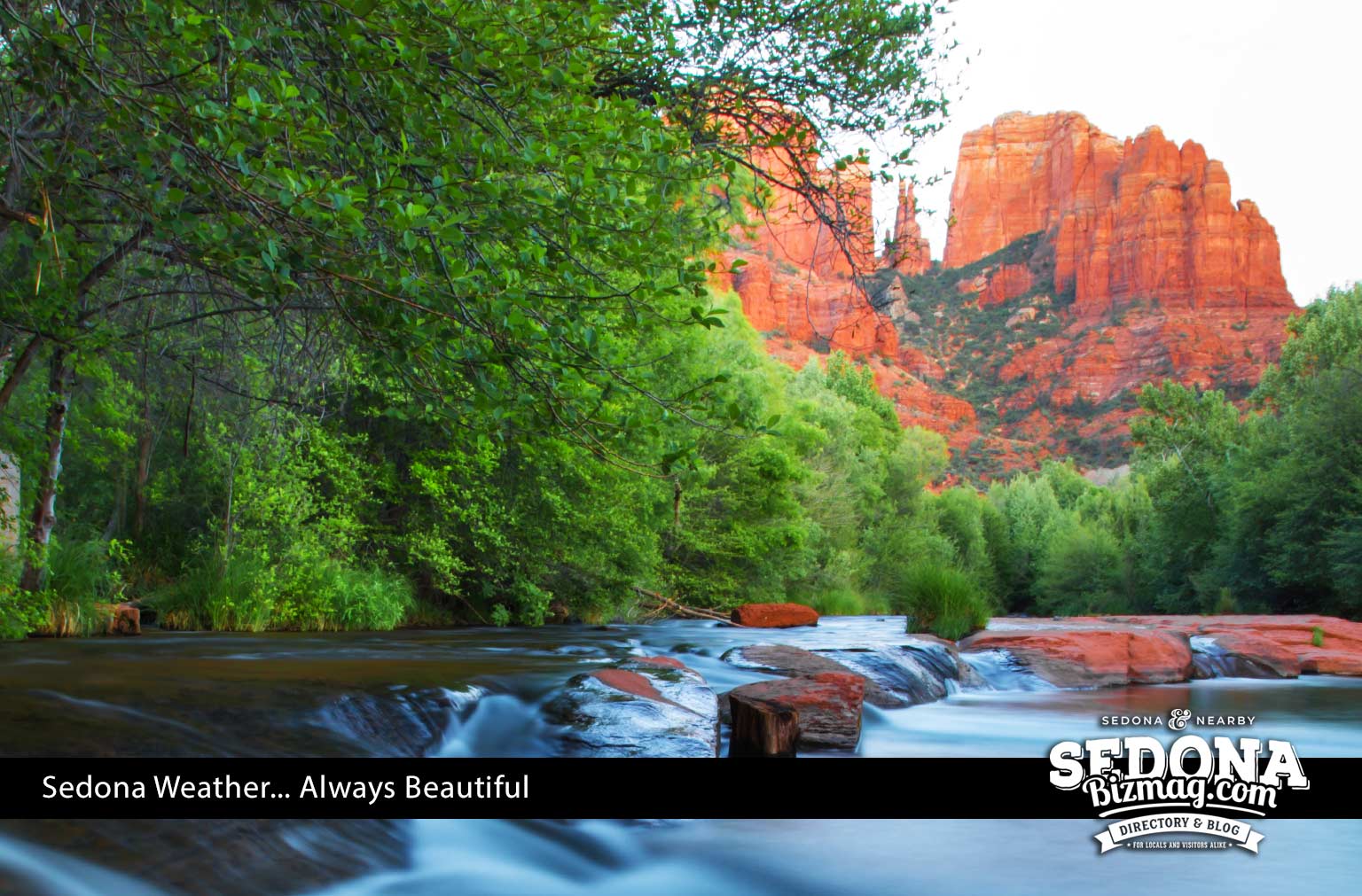 What is the best time of year to visit Sedona AZ?
Did you know that Sedona was recently ranked one of the 10 best small towns in America?
It's not hard to understand why. The red rock formations and dramatic desert scenery are unlike anything else on earth. Add in world-class hotels, spas, dining, and entertainment options, and you'll quickly understand why Sedona is so popular.
Here's one more reason why Sedona is such a special place: the amazing weather. Sedona weather doesn't feature the extremes seen in other desert locales, like Phoenix's record-breaking heatwaves.
In fact, the locals will tell you that Sedona weather is just about perfect.
So what's the weather in Sedona like year-round? When's the best time to visit Sedona? We'll answer those questions and more, so keep reading.
Sedona Weather by Month: An Overview
| Month | Average High Temp | Average Low Temp | Average Precipitation |
| --- | --- | --- | --- |
| January | 55°F | 30°F | 2.09″ |
| February | 59°F | 32°F | 2.18″ |
| March | 63°F | 35°F | 2.48″ |
| April | 72°F | 42°F | 1.14″ |
| May | 81°F | 49°F | 0.71″ |
| June | 91°F | 57°F | 0.35″ |
| July | 95°F | 65°F | 1.65″ |
| August | 92°F | 64°F | 1.89″ |
| September | 88°F | 58°F | 1.93″ |
| October | 78°F | 49°F | 1.65″ |
| November | 65°F | 37°F | 1.38″ |
| December | 56°F | 31°F | 1.50″ |
This weather table gives Sedona an average year-round high temperature of 75°F and a low of 46°F. Couple that with exceptionally low humidity levels (between 10% and 40%), and you've hit the weather jackpot.
Sedona Weather by Season
If you're wondering if there's a "bad" time to visit Sedona, there's not. Outdoor activities are possible year-round and the scenery is stunning 365 days of the year.
To help you better plan your trip, here's what you can expect seasonally for Sedona weather.
Sedona Summer
Don't let those 90º+ temperature averages scare you into thinking it's too hot to visit Sedona during the summer. Remember that it's a "dry" heat, so it won't feel nearly as warm as 90º in, say, Florida or Louisiana.
Unlike many other locales, summer isn't really the high season in Sedona. The majority of visitors come during the spring and autumn months (more on that later). The exception is residents from Phoenix and Tucson, who often visit Sedona to escape those triple-digit heat waves.
The summer days do get warm, but the evenings cool off beautifully. You'll want to pack a light jacket or sweater for those nighttime strolls around town. Be sure to pack sunscreen, a hat, shorts, and hiking boots for your daytime activities.
Another important item to pack for a summer visit: your umbrella. Yes, Sedona is a desert, but even deserts experience monsoon season. July, August, and early September are peak season for afternoon storms, with a 22% chance of experiencing rain on any given day.
But don't worry—the rain rarely lasts long and it's guaranteed to cool everything off. If there are any lingering clouds around, you can expect some epic colors during the Sedona sunset.
Sedona Autumn
Fall is a glorious time for Sedona weather, making it a popular time to visit. Daytime temperatures are still comfortably in the 70s and 80s, while the nights are cool and crisp.
Mid-September through November boasts the clearest skies and least cloud cover. During these months, there's an 84% chance of clear or mostly clear skies. Perfect!
If you're hoping to see some fall colors in Sedona, late October into November is your best bet. Take a drive through Oak Creek Canyon and marvel at the bright colors on the deciduous trees.
There are also plenty of outdoor events that occur in the fall, including music, art, and wine festivals. Short sleeves are probably fine during the day, but be sure to pack a jacket and a scarf to wear after the sun goes down.
Sedona Winter
December through February are the slowest months of the year for tourism, which makes it a great time for you to visit. You won't have to battle crowds at popular sites and you can snag some amazing deals at local hotels, restaurants, and spas.
High temperatures are usually in the mid-50s, and the low humidity makes this temperature very pleasant. Nighttime lows hover around freezing, so you will need a decent coat, gloves, and scarf to stay warm.
Does it snow in Sedona, you might wonder? A big storm is rare, but the mountaintops do sometimes get a dusting of snow (about 3.5 inches annually). The sight of the red rocks with stripes of white snow is unforgettable!
You can still comfortably enjoy most outdoor activities during the winter, as the state parks and hiking trails stay open year-round. If you have your heart set on skiing on snowboarding, you can get your fix just up the road in nearby Flagstaff.
And if experiencing Sedona's vortexes is high on your list, winter is the perfect time to visit. You're almost guaranteed to have these magical locations to yourself!
Sedona Spring
Springtime in Sedona is simply spectacular when the desert flora blooms and adds even more color to the landscape. Temperatures sit comfortably between the 60s and the low 80s, making it ideal for outdoor exploration.
March hosts a flurry of festivals for yoga, mountain biking, and food trucks. This is also the driest season with only a few days of rainfall, so it's a great choice if you want to spend a lot of time hiking, biking, or camping.
Of course, these amazing conditions attract crowds of visitors. Be sure to make your travel arrangements well in advance if you plan to visit during the springtime.
And speaking of planning your visit, bookmark this page for the best driving directions to Sedona from Pheonix, Flagstaff, and Prescott. That way you can spend less time looking at the map and more time enjoying the desert's natural beauty.
The Best Time to Visit Sedona: Anytime
When it comes to Sedona weather, there's no wrong time of year to visit. You'll find plenty of outdoor activities and amazing scenery to enjoy no matter which season you choose.
Now that you know what to expect with the weather and climate, it's time to continue your vacation planning. Click here for our local business listings that include the best hotels, dining, and entertainment options in Sedona.
Reminder: The Desert is Dry!
Please remember to take care of yourself when visiting Sedona at any time of year. Have a reusable, full water bottle with you at all times.
GET STARTED
Do you think this article should link to your website?
We do too! Become a Business Directory Member Today!
GET STARTED
Promoting Your Business
How do we promote your business? Well, this online magazine is one example. You can choose 4 different ways to utilize this space:
Business Directory Listings
Directory Listings last 1 month, 6 months, or 1 year. They feature your contact information, logo or profile pic, photos, YouTube videos, business descriptions, map, and a link to your website. See a Business Directory Listing Template here ⇒
Read the Sedona Business Directory Resources & Guidelines here ⇒
Ads
Ads are billed monthly, every 6 months, or yearly and have several locations on this website to choose from. See Ad Specs here ⇒
Articles
Articles (blog posts) are a really fun and inexpensive way to get published on the web (and get links!). See our Article Guidelines here ⇒
Homepage Cover News Story
This large, high-visibility section at the top of the homepage is available only 52 times per year and is published for a full week. It is offered on a first-come/first-serve basis. One business can reserve this premium space only twice per month. Read Guidelines here ⇒
Social & Email
Sedona Biz Mag also maintains FaceBook and Instagram pages, as well as an eNewsletter to further share your content across multiple platforms and through email.
View Advertising Services
Subscribe
&

Get Some Good News!
Special Offers, Opportunities & Information
for Locals and Visitors Alike 😊
We do not spam. You can unsubscribe anytime.