While Sedona, Arizona is home to breathtaking landscapes and ancient historical sites, one of its most popular attractions can't be seen with the naked eye. Instead, you have to feel it for yourself when you visit the famous Sedona vortexes. If you've never visited a Sedona vortex, you're in for a transformational experience. Read on to learn more about these vortexes, as well as where and how to experience them for yourself.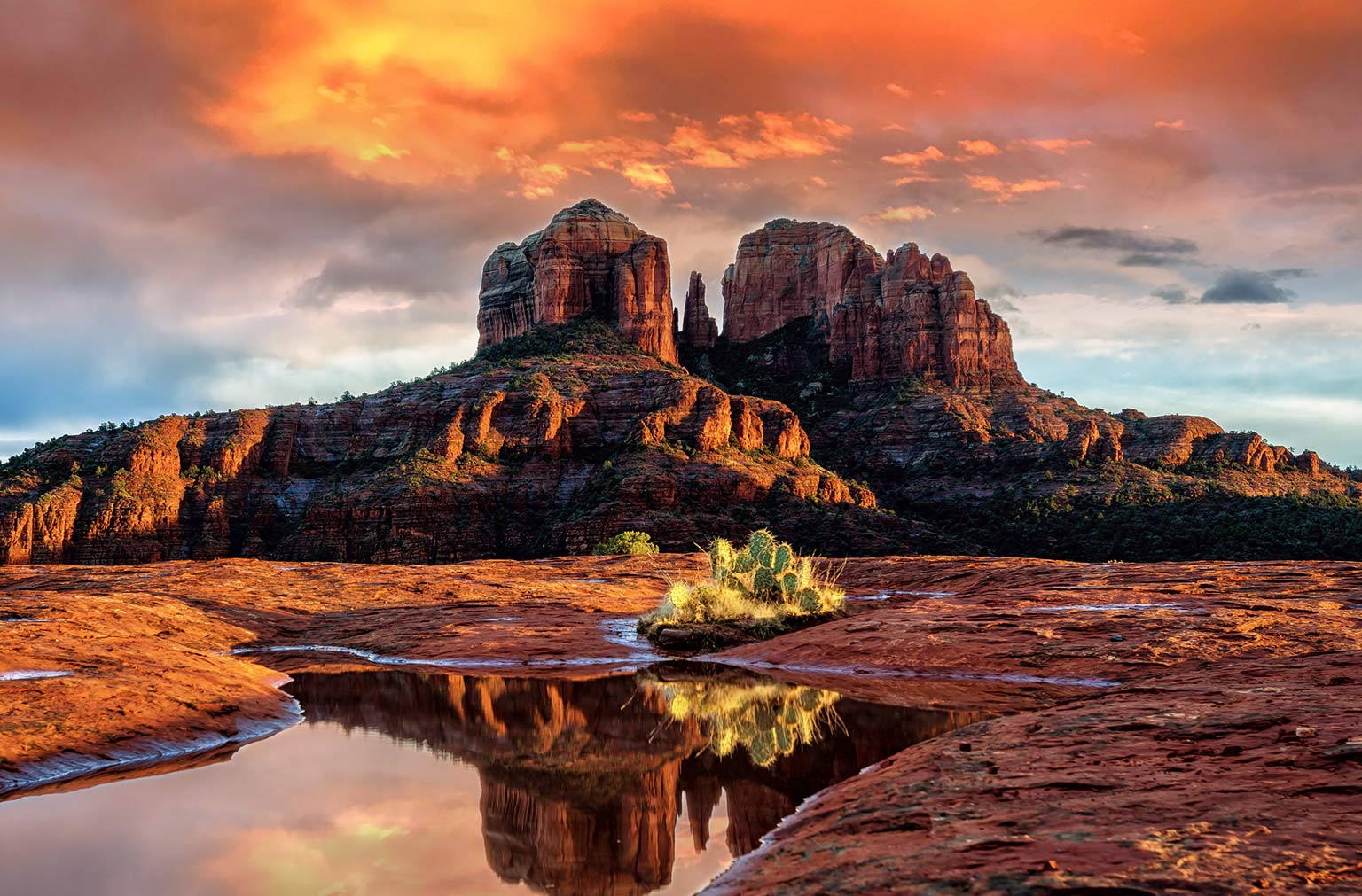 What is a Sedona Vortex?
Sedona vortexes (vortices) are locations where enhanced levels of energy from the earth gather and swirl. These ancient sites have long been known as powerful sources of healing and spirituality.
These vortexes are located in some of Sedona's most beautiful spots. Many people have found mental, physical, and spiritual healing at these sites.
Today, visitors to Sedona report feeling recharged, uplifted, and inspired after visiting the vortexes. A variety of alternative healing businesses have sprung up around Sedona as a result of these vortexes.
And while some companies do offer vortex tours, you can also access the vortexes on your own.
Where are these Vortexes?
Technically, all of Sedona, AZ, is considered to be in a vortex. The entire region has higher energy levels than usual.
However, there are four primary vortexes spread throughout the city where energy levels are especially concentrated. As we'll discuss more in a moment, energy in some of these areas moves up and out into the universe. In other areas, the energy flows down and into the earth.
The four best-known Sedona vortexes are Airport Mesa, Bell Rock, Cathedral Rock, and Boynton Canyon. Bell Rock and Airport Mesa are both considered upflow areas with more masculine energies. Cathedral Rock and Boynton Canyon are a combination of upflow and inflow, as well as a blend of masculine and feminine energies.
Other Sedona Vortex sites include West Fork Trail, Red Rock Crossing, and Chapel of the Holy Cross.
Sedona Vortex Hikes
It takes a bit of hiking to get to most Sedona Vortexes. Wearing hiking boots while adventuring red rock country is highly recommended. You will be at the creek for the Red Rock Crossing and West Fork Trail Vortexes, so your boots may get wet.
How to Recognize a Sedona Vortex
There are a number of ways to recognize that you're in a Sedona vortex.
One of the more obvious signs you may notice is a tingling sensation across exposed skin or vibration in the ground you're walking over. Some people claim to feel a palpable sensation moving across their shoulder blades and the nape of their neck.
You should also pay attention to your personal energy levels as you move around Sedona. You may notice that you feel more energized the entire time you're in this amazing town. But if you find yourself having a sudden burst of energy or a particular feeling of inspiration, you may be crossing through a vortex.
HIGHLY RECOMMENDED: Purchase Scientific Vortex Information – The Free Soul Method by Pete Sanders here
Upflow Areas
Upflow areas are spaces where energy flows up from the earth and out into the universe. These areas are generally considered to have more masculine energy. They are also classified as electric, although this is only a symbolic distinction, not a literal representation of electrical energy.
It's a good idea to go spend time at an upflow area if you want to send your thoughts soaring to a higher perspective. These areas help to connect you with the universe and the divine. They may help you gain an expanded view of a specific problem or your overall life journey.
Examples of Upflow Sedona Vortexes are Bell Rock and Airport Mesa.
Inflow Areas
Inflow areas are spaces where energy flows from out in the universe down into the earth. These areas are considered to have more feminine energy.
They are also labeled as magnetic, although again, this label is purely symbolic and does not reflect any additional magnetic energy in this region.
If you want to do some introspective meditation or prayer, inflow areas are the right spots for you. These areas may help you to release old hurts, heal scars from the past, and nurture new emotional or spiritual growth.
A prominent Inflow Vortex area in Sedona is Red Rock Crossing.
Combination Sites
In addition to pure upflow and inflow areas around Sedona, there are also some sites where these energy flows mix and swirl.
Being in these vortexes can be overwhelming as you receive energy from both the universe and the earth, moving in and up at the same time. You may feel more connected to yourself and the divine, able to more fully process your sacred place in an ever-expanding universe.
Combination sites can be great places to do more advanced work with the connections among your mind, body, and spirit. If you aren't experienced at managing these energies, you may want to go with a guide who can help you through this journey for the first time.
What if you've spent a lot of time meditating, doing yoga, and engaging with your personal energy? Discover new spiritual heights these vortexes can carry you to.
Examples of Combination Vortex sites in Sedona are Cathedral Rock and Boynton Canyon.
What to do at a Vortex
You may be wondering what you should do when you visit the Sedona vortexes. You'll often see people doing yoga, praying, or meditating at these sites. Show them respect and give them their space.
If you wish to engage in any of these activities yourself, feel free to, paying special attention to your personal energy levels.
Start by pausing and focusing on the energetic forces moving around you. Notice any tingling sensations you feel, as well as unexplained increases of energy or emotion. Close your eyes and sit for a while, tuning into the energies moving around you and through you.
Some people report to not "feel" any sensations while at the vortex, but later on, they feel more peaceful, more positive, or more calm and centered.
Discover the Healing Power of Sedona Vortexes
About Parking
A Red Rock Pass is required when leaving your vehicle unattended while recreating on National Forest land around Sedona and Oak Creek Canyon. View the Red Rock Country Map to see locations of fee areas where the Red Rock Pass is required.
The pass must be displayed in the windshield of the vehicle. Vehicles parked on the National Forest in the red rock area that do not display a valid pass in the windshield are subject to receiving a citation. A pass is not required for incidental stopping to take a photograph or to enjoy a scenic vista (approximately 15 minutes or less).
MORE INFO: Red Rock Pass Program
Sedona Vortex – Recommended Reading
GET STARTED
Do you think this article should link to your website?
We do too! Become a Business Directory Member Today!
GET STARTED
Promoting Your Business
How do we promote your business? Well, this online magazine is one example. You can choose 4 different ways to utilize this space:
Business Directory Listings
Directory Listings last 1 month, 6 months, or 1 year. They feature your contact information, logo or profile pic, photos, YouTube videos, business descriptions, map, and a link to your website. See a Business Directory Listing Template here ⇒
Read the Sedona Business Directory Resources & Guidelines here ⇒
Ads
Ads are billed monthly, every 6 months, or yearly and have several locations on this website to choose from. See Ad Specs here ⇒
Articles
Articles (blog posts) are a really fun and inexpensive way to get published on the web (and get links!). See our Article Guidelines here ⇒
Homepage Cover News Story
This large, high-visibility section at the top of the homepage is available only 52 times per year and is published for a full week. It is offered on a first-come/first-serve basis. One business can reserve this premium space only twice per month. Read Guidelines here ⇒
Social & Email
Sedona Biz Mag also maintains FaceBook and Instagram pages, as well as an eNewsletter to further share your content across multiple platforms and through email.
View Advertising Services
Subscribe
&

Get Some Good News!
Special Offers, Opportunities & Information
for Locals and Visitors Alike 😊
We do not spam. You can unsubscribe anytime.